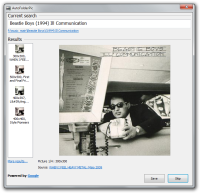 Click for more screenshots
Support this software:

This simple application automates the tedious task of finding pictures - such as music album covers - and saving them into appropriate folders, as folder.jpg in each folder.
AutoFolderPic uses Google images search to fetch images for each folder.
Webmasters: AutoFolderPic aims not to be too hard on servers hosting images. Still, if you do not wish this application to leech images from your site, simply block it by its user-agent string, it will not be changed with future updates.
Windows XP or newer required.